Fishing Charters for everyone in Cabo San Lucas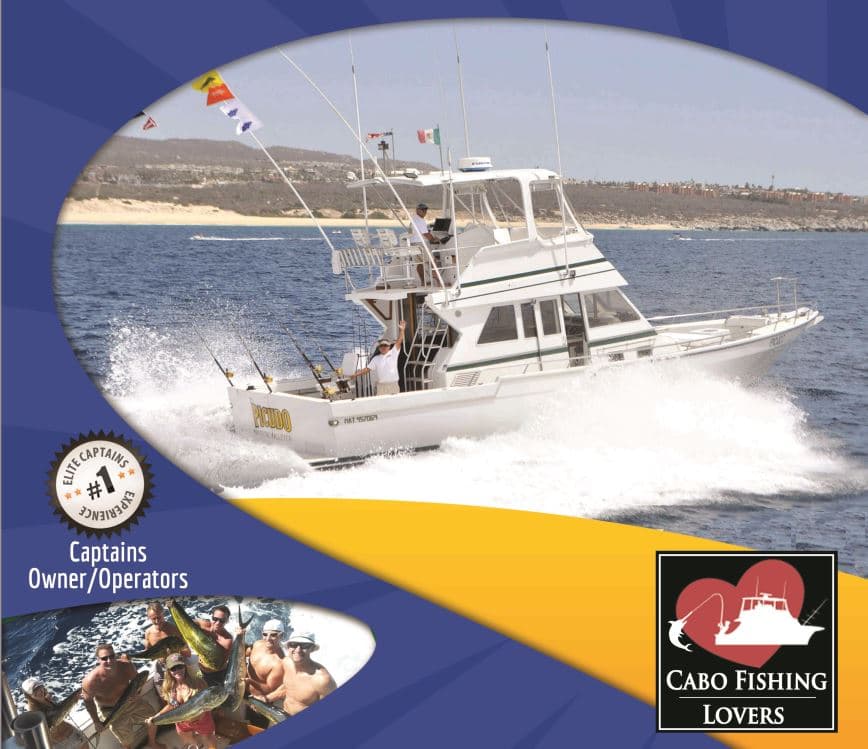 Cabo Fishing Lovers allows you to book online a wide variety of fishing charters. The fishing boats featured here are selected to offer only the more attentive crews and more experienced captains. Take a look!
$230 – $320
23ft Super Panga
Single Fighting Chair
3 Anglers
This is a real "superpanga", very neat and well maintained by its owner and operator Captain Justo.
$500 – $600
31ft Bertram
Single Fighting Chair
5 Anglers
Rosa del Mar II a bertram 31ft is a great fishing boat with new motors and has one of the most experienced captains in all of Cabo.
$449 – $549
31ft Bertram
Single Fighting Chair
5 Anglers
El Torito sportfishing boat is definitely a tournament boat, "El Torito" is a 31ft Bertram fishing boat ready to the action.
$550 – $750
33ft Crystaliner
Twin Fighting Chairs
6 Anglers
Solmar I a nice American Crystaliner 33ft, comfortable and spacious to work on deck,  the perfect fishing boat for a day on the water.
$550 – $650
33ft Owens
Twin Fighting Chairs
6 Anglers
Marisol II is a 33ft Owens boat in perfect condition, with good equipment and very comfortable interior.
$525 – $725
32ft Crystaliner
Twin Fighting Chairs
6 Anglers
Solmar IV a Ensenada Crystaliner 32ft is a beautiful fishing boat, equipped with all the safety gear and fishing equipment.
$550 – $650
33ft Crystaliner
Twin Fighting Chairs
6 Anglers
"Gancho" a 33ft American Crystaliner  has spacious layout is for six, nice interior cabin with table, bench seats and bathroom.
$749 – $999
38ft Crystal Craft
Single Fighting Chair
8 Anglers
Golden Girl have all equipment needed for great sportfishing, with new twin 315hp engines and comfortable interiors.
$600 – $800
34ft Luhrs
Twin Fighting Chairs
6 Anglers
Solmar VII 34ft Luhrs is a highly value yacht in sport fishing, spacious and fast for its twin Cummins 315hp engines.
$750 – $1100
36ft "Luhrs 360°
Single Fighting Chair
4 Anglers
Our boat used for fishing charters is called 'Mucho Bueno', a 36ft Lurhs, two 350 turbo diesel Cummings.
$1150 – $1350
45ft Custom 360° walkaround
Single Fighting Chair
8 Anglers
Picudo sportfishing yacht is very stable offshore and so far all clients have been pleased with the boat.
We offer a variety of fishing charters with some of the most experienced Captains in Cabo San Lucas, each one with over 25 years experience fishing in the waters of Cabo. Most are Captains Owner-Operators, all strive to provide an authentic quality service "Attended by its Owner", they love their work and that makes a big difference.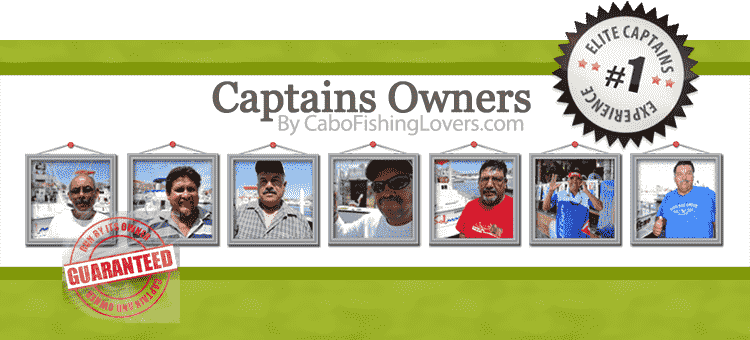 You can learn more about these master mariners, their experiences, pictures and ratings. Once you've gone fishing you can also rate the performance of your captain. Find The One >>
Cabo an excellent point for big game fish and fishers!!
Do you know what resulted of the union of the Pacific Ocean and Sea of Cortez at the south of Baja? An excellent point for big game fish and fishers! In Cabo San Lucas "THE MARLIN CAPITAL OF THE WORLD," you will find an angler's paradise. We know that you value a great fishing experience, big catches and quality service, but Cabo also offers first-class marinas with a great variety of fishing charters, so you'll find the perfect boat. If this isn't enough, you, your friends and your family will enjoy unforgettable days in paradise where the sea, desert and mountains combine to offer breathtaking views. Once you get into your boat and shake hands with the captain, even before you feel the sea breeze against your face.
Cabo San Lucas has many options for good fishing trips, all them can finding in Cabo San Lucas Marina, different types of sport fishing are provided by diverse fleets.
We have selected the bests for you, you do not have to take your chances with a stranger! We take care of organizing the best fishing day of your life, with the best captain and the boat you like.
Cabo the most ultimate destination for saltwater fishing in Mexico

Cabo or better said Cabo San Lucas, is considered to be the the most ultimate destination for saltwater fishing in Mexico. Geographically located in the farthest tip of the peninsula, Cabo is known as "The Marlin Capital of the World", due to its beautiful and large specimens of these game fish caught in their waters.
The fishing community, Captains and Crews lives of sport fishing, so they understand the importance of the conservation of billfish. For this reason, the catch and release practice is used in order to ensure the same quality fishing for future generations.
Cabo fishing calendar by targeted fish speicies.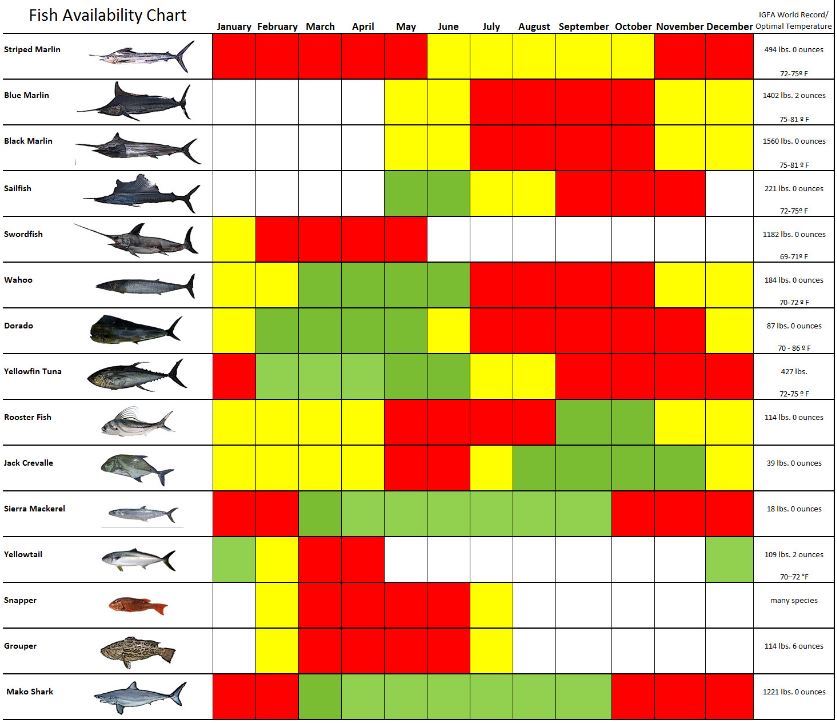 Basics for planning your fishing trip
In Cabo Fishing Lovers sailed every day, to be first to where the fish are, the best time is early morning, either Full Dayfrom 6:30am to 2:30pm or Half Day from 6:30am to 12:00pm.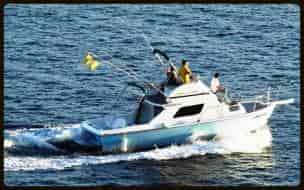 The target fish around Los Cabos are: Marlin, Tuna, Mahi Mahi, Wahoo, Grouper, Snapper, Mackerel, Roosterfish and others.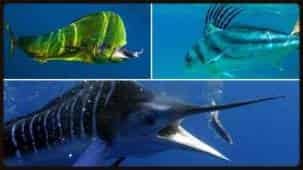 Catch & Release | Mount it | Eat & Freeze
You can mount your catch or fillet and freeze it to take home. For billfish we recommend to our anglers "catch and release" method, you can also mount them, for others species you can eat and/or freeze them to carry home.
Everyone on board over the age of 13, does require a fishing license. You can buy at the time you are booking or at your arrival.
You are welcome to bring your own lunch and beverages or you can choose from a variety we have for you.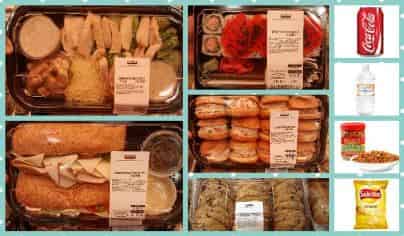 We invite you to see our Fishing Charters options and book with us, come and enjoy the sun, the beach, and a wonderful fishing experience.
You will be a…
Cabo Fishing Lover!